The Bison den is named after having as much sun light as it can, and nice water supply, so It is very warm, and has a decent tone of Brown and green to it. This is the heart of Roleplay, and it is against a mountain, so it is very well hidden, it is hard for predators to climb up and scent out the camp, but the Protectors would be on them already, because the pack knows the land well, so you can't possibly be confused, and if you are confused, the strongest scent in the mountain is the pack, so follow the many different scents in one place. If you want to hunt, there is elk, deer, cattle, Hare, birds, and caribou. You must hunt the calf's of the cattle, because the Farmer has no use for them yet. Hope you have happy rping!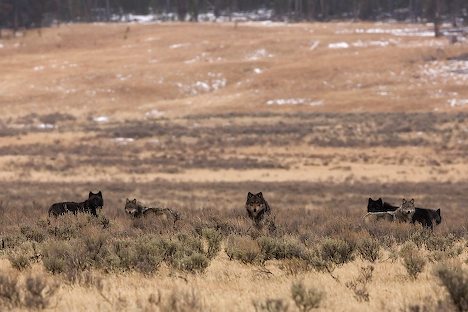 Admin




Posts

: 39


Join date

: 2014-08-29


Age

: 16


Location

: Slenderman's forest

Canine Character
Canine Age:: Respective age of 3
Mate:: GRANDMOTHER WILLOW?!?
Crush:: Halp I've fallen for you and I can't get up


She was done travelling. Sick of it in fact. Not the kind of sick that can be cured, but the sick that dwells inside and nurtures itself into hate. Anarchy had been fleeing for as long as she could remember, and only had spent maybe a year where she'd felt at rest. Maybe it was all an illusion, or a dream. She shook her head. None of it matters anymore, she wasn't welcome back. What's done is done, even if she wasn't the one to blame.

She padded through the plains and shrubs searching for some familiar herbs. Her eyes lit up at the sight of a raspberry bush. Not because she was hungry for berries, heavens no, but for a better reason.

Trotting up to the plant she harvested a few leaves and began to chew them up into a pasty substance. Still chewing the leaves she scanned the ground for a particular weed, a ragweed. Finding one was easy, they usually are common. Pushing the paste to one side of her mouth she plucked some of the ragweed and chewed that as well.

Once they were chewed to the point where they couldn't dissolve any farther she lay down and began applying the ointment onto her pads, which were torn and bloody from all the extensive running. The ragweed would give her some strength and energy, and the raspberry leaves will ease the pain and stop the bleeding.

For now, she must rest however. No sense in travelling while injured.



Posts

: 6


Join date

: 2015-06-03



The female wolf was once again lonesome. Rising Moon had vanished, and she travelled her territory, tattered face baring to anything in sight on her 'pack's' territory, which was right now only herself, which caused the dark female to snort, flicking both ears, pricking them for any sound as her neon green eye searched around for prey, her shoulder blades relaxed, yet her back tensed.

Maybe it was wrong to leave her old pack? Surely not? No. This was her decision. She wanted this, but half of herself didn't. She couldn't go back, couldn't see any of her old friends, no. She had to be a mature, responsible Alpha now, like her mother and the others had been. But she would make sure her pack would not die.

No, Not at all. It would thrive here, in this new land with new creatures. There were no Lions, Cheetahs, Leopards, or anything here. The only threats were Bears, Feral Coyotes, Feral Foxes, and multiple species of birds. This life would be a new start, a change for the history of her as well as others life's.

She let off a low, warning howl for any predator, a bear perhaps, to warn them off. But her howl was still laced with her singing voice she had from before.
Admin




Posts

: 39


Join date

: 2014-08-29


Age

: 16


Location

: Slenderman's forest

Canine Character
Canine Age:: Respective age of 3
Mate:: GRANDMOTHER WILLOW?!?
Crush:: Halp I've fallen for you and I can't get up


Willow
Willow lifted her aquamarine eyes to the sky, watching carefully. She had only been in Yellowstone
for a month now, and she couldn't let her guard down. Her black nose twitched as the wind shifted
direction, throwing new scents her way. She shifted on her black paws and sat, ears pinned. Willow
glanced about, unsure where to go to next.
Suddenly, a howl rang out. Willow's ears pricked and swiveled around anxiously. With a small shock,
she realized that it was a familiar howl. She stood and then stayed there for a moment, just letting her
tail twitch from side to side. Willow then let out a responding howl of her own, her small body arching inwards as she pulled her head up to the sky.
Adressed: Stubby
Mentioned: Stubby
OoC:Time for a reunion.



Posts

: 4


Join date

: 2015-06-07


Location

: idk man who knows where i am

Canine Character
Canine Age:: 3
Mate:: N/A
Crush:: N/A


The dark female pricked her ears at the responding howl, something nagging at her in her mind that she knew the owner of that voice.

Could it be someone from her old pack? Maybe a trap for humans to capture and test on her? It nagged at her still, and she snorted in response. She rose her cranium back to the sky, wind cutting through the layers of her pelt as she sat on top of the Pack Rock, twitching her tail tip in response as she let off an air splitting howl, it was soft, yet strong, to mark the territory.

'What if no one joins the pack? What if I have to find a way to go back home?' She thought to herself, letting off a shiver as she sighed, the wind stinging her lungs as she stood, heaving herself to all three paws, bunched her muscles, and leaped down onto the dusty ground. Holding her tail high, she hobbled over to the small pond, and lapped at the clear water, sneezing about three times.
Admin




Posts

: 39


Join date

: 2014-08-29


Age

: 16


Location

: Slenderman's forest

Canine Character
Canine Age:: Respective age of 3
Mate:: GRANDMOTHER WILLOW?!?
Crush:: Halp I've fallen for you and I can't get up




Similar topics
---
Permissions in this forum:
You
cannot
reply to topics in this forum